Coquitlam

June 1, 2018

Current: Coquitlam's 14 %SOLD Rate indicates a Stable Market. (This means 14 homes out of 100 sold last month with an Average $34,000 Discount from the Original List Price) but do check the many micro-markets 14 %SOLD rates for each neighbourhood.

Most Active Range: Homes between $1 mil. - $1.2 mill. have a 27.1 %SOLD rate.
Least Active Range: Homes above $2 mill. have 4.2 %SOLD rate.

History: The Coquitlam Year-To-Date Home Price Index HPIp (Top 50%) shows that prices increased $24,254.
The Coquitlam Year-To-Date Home Price Index HPIp (Lower 50%) shows that prices increased $40,638.
*The HPIp (Home Price Index) is an approximate reflection of the Average Home Price Changes.

Forecast: Coquitlam has a normal Listing supply; 451 homes are for sale. With the 14 %SOLD Monthly Rate (STR) gives us ~7 months of inventory. 15% of the Active Listings have reduced their price by $80,295 on Average or $65,900 Median. We project Coquitlam Detached to be a Stable Market.

May's Real Estate Statistics shows 62% of Vancouver's Detached Markets decreased values this last month. Overall, Single Family Homes in Metro Vancouver experienced an Average Monthly Price much stronger decrease of $16,674 which is a marked drop over the $4,857 increase that we saw in the month prior. On the Average Monthly Price decrease of $4,469, which is a Big-Switch from the $13,418 increase that we saw in the month prior. At the same time, the Vancouver Detached Markets showed a price decrease of $16,674. With many new foreign buyer taxes, the much tougher mortgage lending rules, the higher interest rates, trade tariffs, we are forecasting a Buyer's Market across most Detached Markets.

Currently, the Condo Market is turning from Hot to a cooler market, with 53% of the Greater Vancouver (Lower Mainland) still increasing. 61% of the Townhouse Markets are decreasing (17 out of 28 Markets). The "Fear-OF Missing-Out" buyer emotions of yesterday are now being replaced with the "I-Will-Wait" Attitude. We are forecasting a Stabilizing/ Buyers Market in the lower end Condo/Townhouse Markets for the following months. We analyze and provide 97 individual City's Home Price Indexes to supply you the MOST ACCURATE Market Trends every 2 weeks. Please contact us for your own Market Value Update with an in-depth Analysis and Forecast in your Local Market Area and more specifically - Your Neighbourhood.




Since 1984 RE/MAX Agents have had an edge; their monthly RE/MAX Market Reports .. It has being my privilege to expand these reports into critical marketing tools. Thank You! Bill Coughlin

My passion to help..... I seriously dream of new marketing tools to enable you make more money!

OK the Advanced Market Reports are tooo complicated at first glance. These reports are now split into

the Quick Reports for easy review
the Advanced reports that really needs a Stats Boot Camp lesson to fully comprehend
Forecasting for the Stats addicts like me.

Announcing the Instant Home Price Evaluator. In the year 2012, 82% of listings from Burnaby to Chilliwack DID NOT SELL, or were Discounted on sale an Amazing 7.8%* from the original list price! Help to price it right has arrived! 18 % homes were listed at a salable price and sold within 3.7%* .

Our Instant Home Price Evaluator on the right side takes just seconds and has an accuracy before adjustment of ~3.7%* of the resulting sale price 31% of the time. * (on average)
do call us for your custom reports and Stats Lessons Bill Coughlin 778-374-3744

STOP 61% of 's listings from EXPIRING!
| | | |
| --- | --- | --- |
| Consumer Newsletters | Realtor's Advanced Stats | Live Evaluator: Instant CMA's |
RE/MAX Market Share Reports
These

Re/MAX Market Share Reports are sponsored by

the Canada's Most Referred Referral Network! we thank them for their support and please refer to them in your appreciation.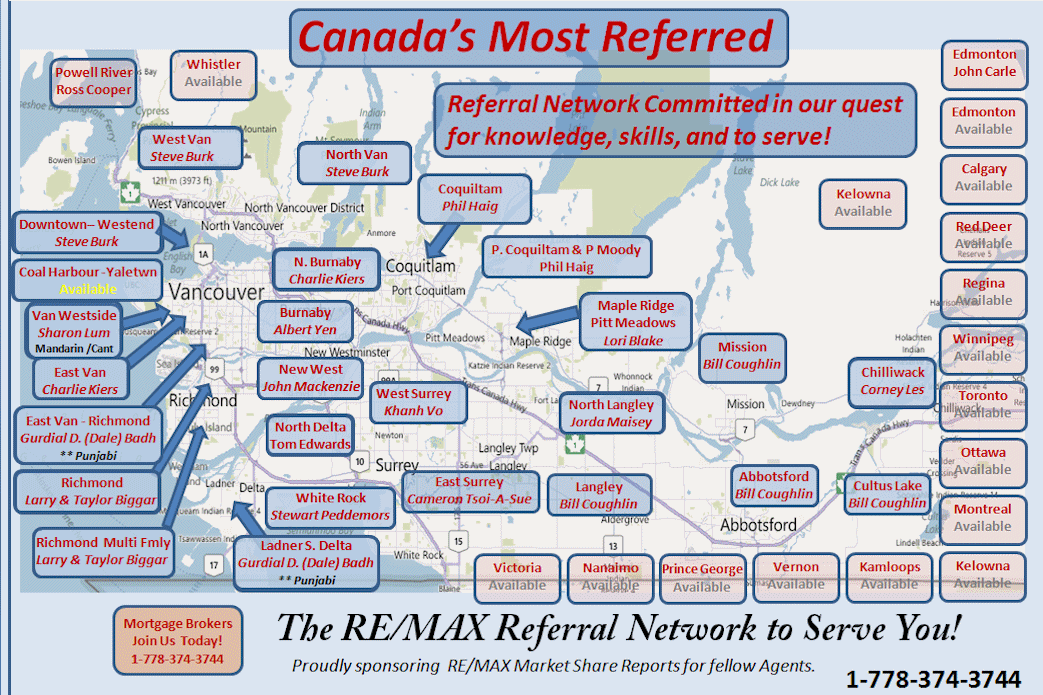 West Van - Steve Burk
North Van - steve Burk
Downtown Westend - Steve Burk
Van Westside - Sharon Lum
Coquiltam - Phil Haig
Port Coquiltam and Port Moody -Phil Haig
Mission - Bill Coughlin
Chilliwack - Corney Les
Cultus Lake - Bill Coughlin
Abbotsford - Bill Coughlin
North Langley - Jorda
Langley - Bill Coughlin
East Surrey - Greg Mark
West Surrey - Greg Mark
Burnaby - Albert Yen
New West - John Mackenzie
North Delta - Tom Edwards
White Rock - Team Claude
Richmond Multi Family - Larry and Taylor Biggar
Richmond - Larry and Taylor Biggar
Coal Harbour - Steve Burk
N. Burr..by - Charlie Kiers
Maple Ridge - Lori Blake
Ladner Delta - Gurdial Badh
East Van Multi Fmly - Gurdial Badh
East Van -Charile Kiers
Powell River - Ross Cooper
Whistler
Edmonton - John Carle
%%IPAG
Calgary - 1
%%IPAG
Calgary - 2
%%IPAG
Calgary - 3
%%IPAG
Kelowna
%%IPAG
Edmonton - Jogn Carle 2
%%IPAG
Calgary - 4
%%IPAG
Calgary - 5
%%IPAG
Calgary - 6
%%IPAG
Calgary - 7
%%IPAG
Calgary - 8
%%IPAG
Calgary - 9
%%IPAG
Calgary - 10
%%IPAG
Calgary - 11
%%IPAG
Calgary - 12
%%IPAG
Calgary - 13
%%IPAG
Nanaimo - Rudi Widdershoven
%%IPAG
Victoria
RMR Referral Network
The Network is growing and growing !
NOTE: This representation is based in whole or in part on data generated by the Real Estate Boards of Greater Vancouver, Fraser Valley, Chilliwack which assume no responsibility for its accuracy.

Year 2015 Cumulative report Year 2014 Cumulative report Year 2013 Cumulative report

Year 2012 Cumulative report Year 2011 Cumulative report.. the BEST REPORT for your CMA to help you win the listings. Copyright © 2011 by Bill Coughlin

We thank Bill Coughlin for their support of these Coquitlam Real Estate Market Updates which include sub-areas such as Coquitlam West, Maillardville, Westwood Plateau, Burke Mountain, Central Coquitlam etc. Contact Bill and the Team as the Local Experts.... more details.

Download the full Coquitlam.Marketupdatereport.PDF

This Coquitlam Real Estate Market update includes the sub areas Westwood Plateau, Coquitlam West, Burke Mountain, Central Coquitlam, Maillardville etc.